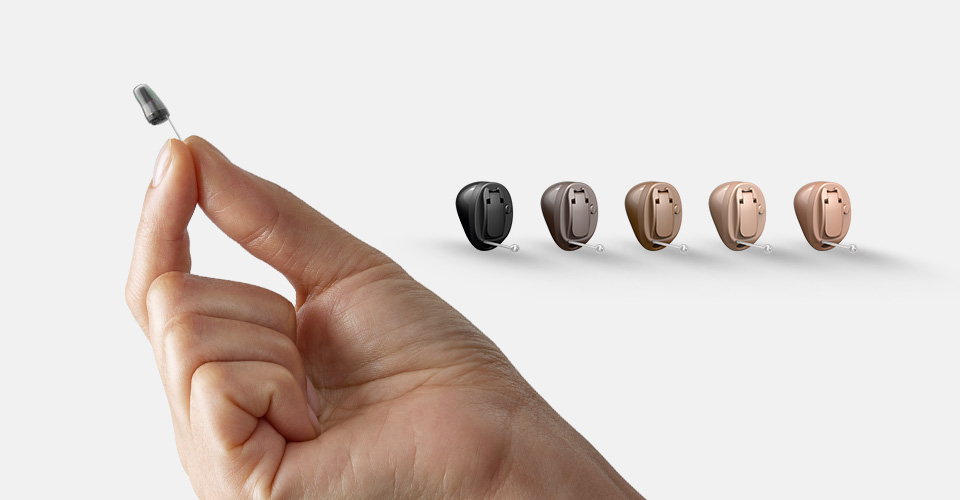 Oticon Own™
The all-new Oticon Own is now available at HearingLife! There's no one-size-fits-all solution when it comes to hearing aids. With styles ranging from a full shell, down to our smallest IIC (invisible-in-the-canal), there is a style to suit your individual needs. For the ultimate discreetness, our IIC is completely invisible for 9 out of 10 ears.¹ Now, you can focus on what matters most with complete confidence.
Discover Oticon Own™ hearing aids
We all have a different story — different passions, professions, needs, and ways of expressing ourselves. The new Oticon Own hearing aids are fully custom, small and discreet, and packed with powerful technology so you can live your story with more freedom and ease.²
Made to fit your own lifestyle
No two people are alike, and the same goes for our ears. Oticon Own is tailored to each user for the most comfortable fit.
Small size, big technology
Experience superior innovation that gives you access to a full and precisely balanced sound scene, without any bulk in your way.
Based on BrainHearing™ technology
Oticon Own hearing aids are equipped with hearing technology designed to support the way the brain works.²
Try the new Oticon Own with a 30-day RISK-FREE trial
Try Oticon's new custom hearing aids. Personalized - In-the-ear - Small and discreet - Optimum comfort - Superior technology.
Complete the form below to book a free Oticon Own™ hearing aid trial:
Have you had a hearing aid before?
Oticon Own™ technology and features
A lot of technology fits into these small hearing aids. In addition to a personalized and advanced listening experience, Oticon Own technology offers you:
Seamless connectivity
Easily connect to your devices, take hands-free calls on the go, and use your hearing aids as wireless headphones.³
Access to the full sound scene
BrainHearing™ technology helps support the brain's natural way of working by providing better access to the full sound scene.²
Exceptional sound quality
The intelligent Deep Neural Network technology is trained with 12 million real-life sounds to seamlessly recognize and adapt to different sound environments.²
Clearer contrast between sounds
MoreSound Intelligence™ technology optimizes sounds from life, while making it easier for the brain to separate sounds and focus on what's important.⁴
Remote support
Chat with a hearing care expert from the comfort of your home with the RemoteCare App.
Could Oticon Own™ be for you?
The Oticon Own family is made up of five different in-the-ear styles that are available in a variety of colors, battery sizes, output levels, and price points.

Our hearing is as unique as our fingerprint, so there isn't a one-size-fits-all solution when it comes to hearing aids. Oticon Own is customized entirely for you and your individual needs, preferences, and ear shape to achieve maximum comfort.

Take a quick online test
Play an active part with Oticon Own™ hearing aids
Whether you love running, creating art, relaxing at home with your favorite films, or going out with your favorite people beside you, Oticon Own offers a personalized listening experience so you can go about your daily life with more comfort and clarity.
Try Risk-free for 30-days
Find an office
3 reasons to choose HearingLife
Experts in hearing care
Our licensed professionals conduct complete hearing assessments* and provide same-day results.
Experts in hearing care
Quality hearing aid solutions
We offer a broad selection of the latest digital hearing aids for mild through profound hearing loss.
Quality hearing aid solutions
AfterCare services
As a HearingLife customer, your hearing aid purchase includes a range of complimentary services for the life of your device.++
AfterCare services
1Rumley et al. (2022). Oticon Own evidence. Oticon Whitepaper.
2DNN is only available in Oticon Own 1, 2 and 3.
3Only available in styles with 2.4 GHz. Android devices need to support ASHA to allow direct connectivity to Oticon Own. iPhone and iPad devices need to support two-way hands-free communication. Please visit Oticon.com/support/compatibility for more information and to see which devices are compatible.
4Benefit may vary depending on style chosen