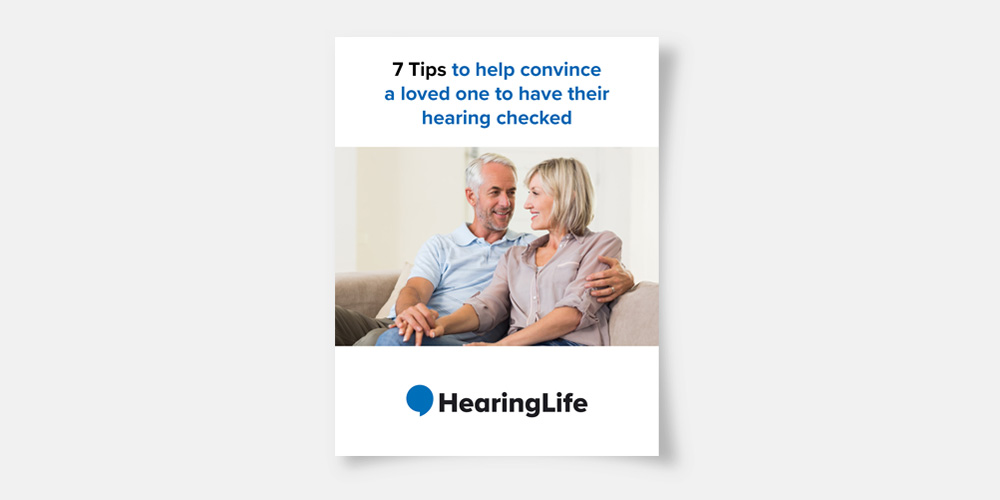 Don't wait any longer to help your loved one
You likely have a friend or loved one who has symptoms of hearing loss but is resistant to having their hearing checked. If you want to help your loved one, complete the form below to download your free guide to help encourage them to have their hearing checked.
Signs your loved one may have hearing loss
Do you recognize any of these symptoms in a friend or loved one? If so, download our free guide today for tips on encouraging them to have their hearing checked.
Difficulty following conversations
They have difficulty following group conversations (or when background noise is present)
Phone conversations are unclear
They have trouble following phone conversations in quiet and noisy places
They ask others to repeat themselves
They complain that they cannot hear others clearly or that others seem to be mumbling
Difficulty locating sounds
They have difficulty locating where sounds are coming from
Signs of tinnitus
They experience ringing or buzzing sounds in their ears (called tinnitus)
Turning up the TV too loud
They turn up the TV volume too loud for others
© 2022 HearingLife. All rights reserved.
The purpose of this hearing assessment and/or demonstration is for hearing wellness and to determine if the consumer may benefit from using hearing aids, which may include selling and fitting hearing aids. Products demonstrated may differ from products sold. Assessment conclusion is not a medical diagnosis and further testing may be required to diagnose hearing loss. The use of any hearing aid may not fully restore normal hearing and does not prevent future hearing loss. Hearing instruments may not meet the needs of all hearing-impaired individuals. One offer per consumer and offer cannot be combined with any of our promotional offers, coupons or discounts. Offer not available to any consumer who has private or federal health insurance coverage. Other terms may apply, see office for details.